The 7-Day Athens and Mykonos best budget package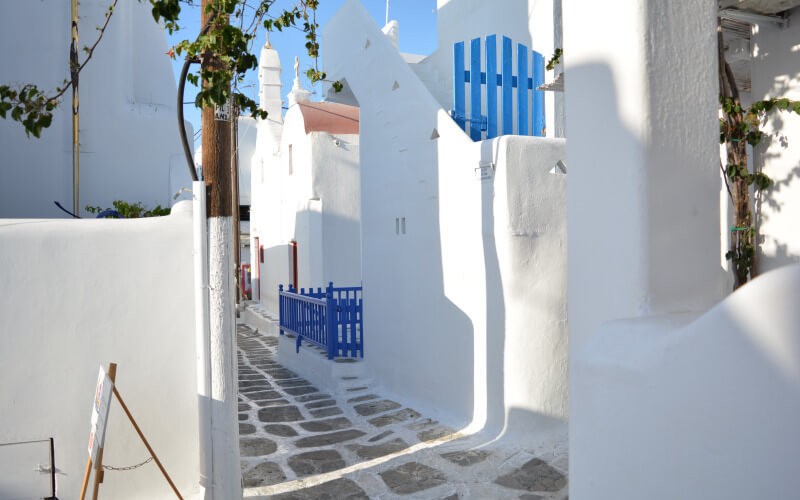 Visit Athens, Greece's capital. Visit the Acropolis, stroll around the Plaka area, try a souvlaki. Head to the Oracle of Delphi and continue your tour to Mykonos the well known jet-set island of the Cyclades. Enjoy the alleys, the nightlife, the beaches, the sun and the sea of this unique Greek Island…
Day 1: Athens
Day 2: Athens, Cape Sounion
Day 3: Athens-Delphi-Athens
Day 4: Athens-Piraeus-Mykonos
Day 5: Mykonos-Delos-Mykonos
Day 6: Mykonos
Day 7: Mykonos-Piraeus-Athens
Day 8: Athens-Airport
The 7- Day Athens and Mykonos best budget package, alley in Mykonos Island
Day 1: Athens
Welcome to Athens! Check in at the Hotel Philippos, located in the Plaka area, next to the Acropolis. Afternoon at leisure. You can relax or have a stroll around the old village of Plaka to take pictures of picturesque houses and to look for souvenirs.
You can also visit one of the numerous museums or art galleries or go to Hermou street to buy shoes and clothes.
You may have famous souvlakia and a Greek salad for lunch at a traditional tavern or a posh dinner at a Michelin starred restaurant. You will spend your first overnight in Athens.
Day 2: Athens, Cape Sounion
After breakfast, you are going on a walking sightseeing tour of Athens , including guided tours of the Acropolis (the Parthenon, the Temple of Athena Nike , Erechtheion, and the Acropolis Museum ), the Theatre of Dionysus, the Theatre of Herodes Atticus, the Temple of Oympian Zeus and the Agora where Socrates engaged the Athenians in philosophical conversation and where a Temple of Hephaistos still stands.
The Areopagus where the first Athenian law court was established and where Saint Paul preached in 54 A.D. and received his first Athenian convert to Christianity, can be viewed from the Acropolis. You can have lunch in Plaka area accompanied by some free time.
In the afternoon you will go on a trip to Cape Sounion. The drive along the coast of the Athenian Riviera is marvelous. Beautiful beaches and houses, gardens, trees, colorful flowers and even small islands capture your imagination till you reach the Temple of Poseidon, overlooking the Aegean Sea.
Take pictures sat on the rock where king Aegean was waiting for his son, Theseus, to come back from King Minos' palace in Knossos, in Crete. You will return to Athens where you will spend your second overnight full of wonderful memories.
Day 3: Athens-Delphi-Athens
In the morning, after breakfast, you will start your full day trip to Delphi, once called the belly button of Earth which was the most celebrated and mysterious site of prophecy in ancient Greece. Home of the oracle of Apollo, it is situated on the side of Mount Parnassus , residence of the Muses.
You will visit the extensive site of the oracle with the temple of Apollo that along with the Parthenon and the temple of Aphaia in Aegina form a perfect isosceles triangle. You will continue to the theater, and the museum full of amazing exhibits and statues, mainly gifts to the oracle from people seeking consultation or help. Lunch in Delphi where you will try the local specialties and products.
Return to Athens in the evening where you will spend your third overnight.
Day 4: Athens-Piraeus-Mykonos
After breakfast you will be transferred to Piraeus to embark the ferry boat to Mykonos. You will arrive to this cosmopolitan island after 5 hours. You will be transferred to Rhenia Bungalows, located next to the yacht harbour.
You will have the rest of the day at leisure to explore this famous island, combining the sophisticated lifestyle with the simple yet charming life of the Cyclades. Stroll around the maze of narrow streets, marvel the tiny chapels and whitewashed houses with their flower-filled balconies.
Take pictures of Little Venice, the neighborhood built on the waters of the sea and the wind mills. Buy clothes, shoes and accessories of the best brands of the world at the small exclusive boutiques.
Swim or relax on the waterfront, enjoy the sunset and later on rich night-life of Mykonos till the morning surrounded by international celebrities. Spend your first overnight in Mykonos feeling like you are a Hollywood star.
Day 5: Mykonos-Delos-Mykonos
In the morning, just after breakfast, a half day trip to Delos by local excursion boat is waiting for you. You will visit this island that has not been inhabited since the ancient times and it really is full of ancient ruins. Do not forget to take a picture in front of the famous lion.
You will return to Mykonos at lunch time. You can choose among a great number of re-known restaurants, ranging from local to french or Asian cuisine. You will have plenty of leisure time to explore the island and its night life.
You can start dancing at 3 o'clock in the afternoon and you can listen to all sorts of music. There are bars playing classical, pop, rock or even typical Greek music called bouzouki. When you get tired, go back to your hotel where you will spend your second overnight in Mykonos.
Day 6: Mykonos
Pamper yourself and wake up whenever you like today. Enjoy your own way your leisure time in Mykonos. You can spend the day as you like.
Rent a car or get on a bus to see the rest of the island. Swim in the crystal clear waters of remote beaches and have an idea of how the local people used to live in their villages in the past. Back to the capital of the island, you can visit art galleries and appreciate modern art not only from Greece but also from lots of other parts of the globe.
Have a glass of ouzo accompanied by olives, feta cheese and sardins gazing at the Aegean Sea and when you feel like it go back to your hotel for your last overnight in Mykonos.
Day 7: Mykonos-Piraeus-Athens
Try to do whatever you think you omitted on this island after breakfast as early in the afternoon you will depart from Mykonos. Buy a couple of Myconian T-shirts to remember your trip and try to find the shop with the pair of leather sandals you fell in love with.
Be sure you won't miss the ferry boat to Pireaus. You will arrive to Piraeus in approximately 5 hours and you will be transferred to your Athens hotel where you will spend your last overnight in Greece.
Day 8: Athens-Airport
After breakfast, ends your 7 Days Athens – Mykonos Best Budget Package. We all from Vikings Navita wish you a nice flight back home, hoping you choose one of our wonderful trips for your next vacations.
Departures:
Included:
4 nights in a 3* Hotel Philippos or similar in Athens.
3 nights in a 3* hotel Rhenia Bungalows or similar n Mykonos
Twin- bedded rooms with private facilities and A/C
Breakfast (7)
Lunch (1 ) in Delphi.
Private transfer by taxi from Hotel in Athens to Piraeus port and vice versa
Private transfer by taxi from Mykonos Port to Hotel and vice versa
Ferry tickets Piraeus-Mykonos and v.v. in economy class
A 3 hrs Walking sightseeing tour with archaeological licensed guide to the Acropolis (entrance fees excluded)
An afternoon tour to Cape Sounion by coach and guide and admission fees
A full day tour to Delphi by coach and guide and admission fees
Tickets for local ferry from Mykonos to Delos and v.v.
Price:
Starting from

EUR 1.380

EUR  1.245  per person.
390 € for single occupancy accommodation
Not-Included:
City hotel tax
Air flights
Porterage
Tips
Beverages-soft drinks, bottled wine, beer and other alcoholic drinks
Admissions fees to the sites and museum (apart in Delphi and Cape Sounion where they are included)
All items not mentioned
Remarks:
Itineraries can be changed at the discretion of the company in case of adverse weather conditions or in case of other extraordinary conditions.
Other Cruises in Greece
you might be interested in
---
If you like the idea to gather a group of friends and sail the Greek Islands, the "7-Day Discovery Cruise" is the right choice. If sailing to the Cyclades and Mykonos Island is what you dream of, then the "7-day Jewel of the Cyclades" cruise is a great option.