Classroom At Sea: The 18-Day Study Tour to Greece 2019 – 2020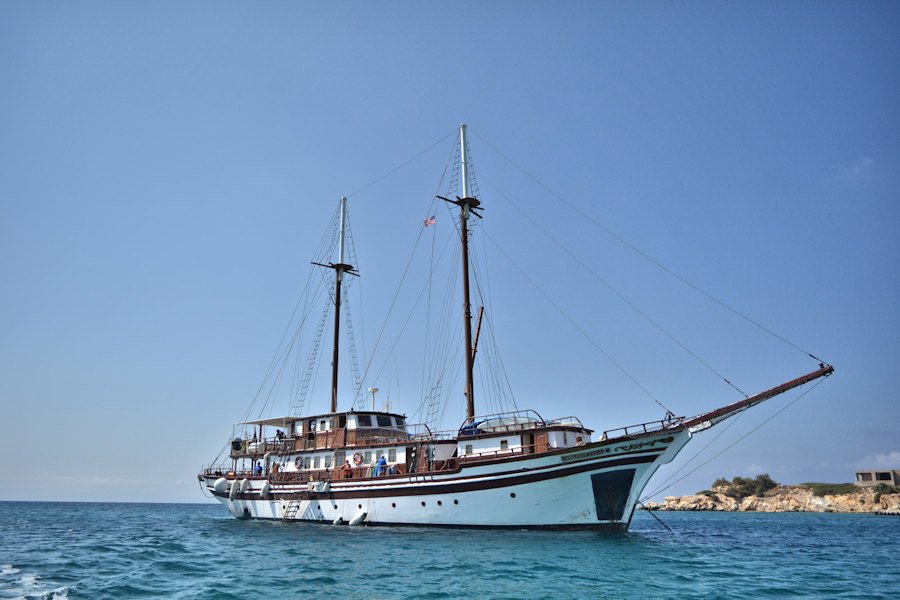 This spanning educational tour of Greece, the classroom at sea ,  offers a chance to experience the country over 18 days, spending two weeks aboard a traditional wooden vessel as you tour a number of Greek islands as well as a 3-day stay at the historic capital of Athens.
The "Classroom at Sea" study tour to Greece begins on the main land as you settle into Greek life and explore the gorgeous city of Athens. Here you will marvel at the co-existence of modern society with the rich tradition of history and mythology that makes this city so unique. With this educational tour to Greece you will have a chance to see the ancient and historic Parthenon, Acropolis, Temple of Zeus and so much more as you assimilate into Greek culture.
After this short stay, embark upon the beautiful seas aboard the Aegiotissa II (Aegean Lady). This schooner will escort you to the many islands of Greece, where you will witness the rich history of the land as well as a breathtaking landscape and enlightening culture.
There are countless historical and mythological sites to behold and learn about first-hand that range from Apollo's home to ancient sanctuaries to the site of battles that live on in the pages of Don Quixote. This study tour offers immersive access to Greek's culture that is rich with history, mythology, and a gorgeous atmosphere to experience it all.
Classroom at Sea alternative 1
---
Featuring :
14-Day Classical Greece and islands by yacht and 3-Day Athens
Athens, Corinth, Epidaurus – Nauplion – Mycaene – Delphi – Naupaktos – Zakynthos – Kefalonia – Ithaka – Olympia – Corinth canal – Aegina-Cape Sounion- Sifnos – Ios – Santorini – Antiparos, Paros, Naxos, Delos, Mykonos, Tinos
Itinerary:

ATHENS
Day 1 .  Dep. USA by air.
Day 2   Athens (Tue). Arrive Athens Int'l Airport Venizelos. Start of " Classroom at sea " study tour to Greece. Meeting and transfer to your superior standard hotel in Athens, located near the Acropolis and the Plaka area. Afternoon at leisure. Welcome dinner in a Plaka restaurant with Greek folkdances and music. Overnight. (D)
Day 3.  Athens  – Athens Sightseeing, including guided tours of the Acropolis (Parthenon, Temple of Athena Nike , Erechtheion, and Acropolis Museum ), Theatre of Dionysus, Theatre of Herodes Atticus, Temple of Olympian Zeus , and Agora, where Socrates engaged Athenians in philosophical conversation and where a Temple of Hephaistos still stands. The Areopagus, where the first Athenian law court was established and where Saint Paul preached in 54 A.D. and received his first Athenian convert to Christianity, can be viewed from the Acropolis . In the afternoon walk down from the hotel to visit the new Acropolis Museum, which will be inaugurated early 2009. Overnight. (B)

Day 4   Athens –  Cape Sounion – Athens. In the morning visit the National Archaological Museum of Athens. In the afternoon a trip to Cape Sounion, Drive along the coast of Riviera Attika to visit the Temple of Poseidon, overlooking the Aegean Sea. Optional dinner in a local tavern on the way back. Overnight (B)

CRUISE

Day 5  Athens – Epidaurus – Mycaene – Nemea – Corinth.  Early morning depart by coach. We will tour the site of ancient Corinth , where Saint Paul preached to the Corinthians, and its small museum, after which we will proceed to Epidaurus. Epidaurus is the site of the best-preserved and constructed theater of ancient Greece (plays are still performed there); it was regarded as a place of healing and renewal for those attending the tragedies presented there. Proceed to  visit is to Tiryns , birthplace of Hercules, with its massive Cyclopean walls and fortifications.  From Tiryns , which served as a satellite fortress for the Mycenaeans in the 13 th century B.C., we proceed to Mycenae itself.  Mycenae was the home of the Achaian warrior and king Agamemnon, who marshaled and led the Greek troops in their ten-year siege of Troy after the Trojans' abduction of Helen, the wife of Agamemnon's brother, Menelaus. We will visit the ruins of Mycenae, where the famed lion gates guarding Agamemnon's palace can still be seen, along with the palace walls, rooms, famous "beehive tombs," and other artifacts.  Then to Corinth where the "Class Room at Sea" Study Tour, cruise part begins.  Embark the yacht . Dinner and overnight. (B,D)

Day 6 Corinth – Itea – Delphi . Early morning sail in the calm Corinthian Gulf to the port of Delphi – Itea. Drive along the Amphissa's  olive groves to Delphi.  Delphi was the most celebrated and mysterious site of prophecy in ancient Greece . Home of the oracle of Apollo, it is situated on the side of Mount Parnassus , residence of the Muses. We will visit the extensive site of the oracle, theater, and museum. Visit the museum and archaeological site. In the evening return to Itea and dine onboard. Overnight.(B,D)

Day 7 Itea – Kefalonia  In the morning sail through the Corinthian Gulf to the beautiful island of Kefalonia  Kefalonia is the largest island of the Ionian islands, wealthy and fertile, famed for its wine Robola. Lord Byron lived on Kefalonia where he wrote Don Juan. Picturesque villages like Assos and the fishing village of Fiscardo, where houses have retained their traditional architecture unaltered. Visit, dinner, overnight.(B,D)

Day 8 Kefalonia.  Full day in Kefalonia to explore the island. Overnight (B,D)

Day 9  Kefalonia – Ithaka – Zakynthos. In the morning sail  to the famous island of Ulysses – Ithaka. Visit. Sail early afternoon for Zakynthos (Zante). Visit. Overnight (B,D)

Day 10  Zakynthos –  Kyllini – Olympia. In the morning cross over to Peloponnese, the port of Kyllini. From there by coach to visit ancient Olympia. Visit. Return to Kyllini and sail for Naupaktos town on the main land.
Naupaktos, the Jewel of the Corinthian Gulf , where the famous Naval Battle of Lepanto  took place  on Oct 7 , 1571 .The famous Spanish writer Miguel de Cervantez, who himself was wounded in the Battle of Lepanto , serving in the Spanish infantry , recounted many of his experiences in the novel Don Quixote. The battle marked the end of Turkish naval supremacy and the beginning of the Ottoman Empire's decline on both land and sea. Visit. Overnight. (B,D)
Day 11 Naupaktos – Corinth Isthmus – Aegina. Sail from Naupaktos back to Corinth, cross the Corinthian Canal-which divides the main land from Peloponnese peninsula. In the evening arrive at Aegina island. Visit. Overnight. (B,D)

Day 12  Aegina – Sifnos.  Start the 7-day cruise south to the well-known Cyclades islands .  Dinner onboard. Arrival at Sifnos

Day 13 -Sifnos-Ios-
Breakfast & early sail to Ios. On the way swimming stop & lunch onboard. Arrival at Ios (the island of Homer) at about 18:30

Day 14 -Ios – Santorini
Breakfast at 9:00. Departure for Santorini, one of the highlights of the cruise. Swimming stop. Proceed the Fira port at 13:00. Take the cable car to the town of Fira. Optional excursion. Enjoy spectacular views. Dinner aboard. overnight at Santorini.
The environment of this island is totally different from any of the other Cycladic islands. Often referred to as the "Prehistoric Pompeii of the Aegean" due to the geological changes which transformed this island. A volcanic explosion which took place 3500 years ago is believed to have been responsible for the annihilation of the Minoan civilization in Crete, which lies 70 miles southwards. It is also believed that Santorini or Thira as the locals call it, is part of the legendary lost continent of Atlantis which disappeared when the volcano erupted.
Whatever might be believed, Santorini is a minefield of archaeological interest featuring ancient Thira and Akrotiri with remains of its Minoan town. The island is renowned for its unique views and colorful sunsets.

Day 15  Santorini – Antiparos – }Paros
Morning sail to Paros, one of the most beautiful island of the Cyclades. Swimming stop at Antiparos. Lunch. Arrival at18:30
to Paros (Paroikia or Naousa). Paros has in recent years developed into a modern tourist centre and is one of the few Cycladic
islands filled with gently undulating hills which contain the famous Parian marble – the marble with which the Acropolis was built.
The picturesque approach to the island is via the town of Parikia, the main port and capital of the island, built on the site of the ancient
city. A ruined Venetian castle situated in the present market place, adds to the colour of Parikia, with its narrow cobble-paved streets,
white-washed houses decorated with pots of colorful geraniums and fragrant basil. One of the most impressive and respected shrines
of Byzantine architecture can be found in the form of the Holy Church of Ekatondapiliani, or roughly translated means the church
of 100 doors.
Day 16  Paros – Naxos
Morning leisure in Paros.Sail for Naxos. Swimming stop & lunch. Arrival At Naxos Port .Visit. Overnight. This island known as the island of the "Virgin Mary", is unique for its 800 odd dovecotes artistically designed and built, and scattered over the entire island. Every year on the 15th August thousands of pilgrims from all over Greece gather to honor the Virgin Mary and Her icon which is said to have miraculous properties. However Tinos also has a tradition of being the home of many sculptors and craftsmen. A fine arts school operating on the island is well worth a visit for those interested in fine works of art.
Day 17 Naxos – Mykonos
Our study tour to Greece " Classroom at sea "continues as we sail after breakfast for Myconos – the most cosmopolitan island with dazzling white houses, excellent shopping & entertainments. There you can enjoy spectacular sunset and  Greek dancing. Swimming stop & lunch. Proceeding Myconos Marina at 18:30 Overnight. Although barren and full of windmills, Mykonos is one of the most cosmopolitan of the Greek islands, attracting world renowned socialites, intellectuals and artists.
From its harbor, full of small fishing boats bobbing side-by-side with luxurious yachts, one can walk through narrow white-washed alleys, see dazzling white cubed-shaped houses with brightly painted wooden doors and windows, plus a myriad of tiny blue-domed churches. Famous for its zany nightlife, Mykonos has also much to offer those searching for the cultural history of the island. The church of PARAPORTIANI is considered to be an architectural masterpiece. The archaeological museum exhibits some very interesting finds, most of which were excavated from the "necropolis" or dead city on the little islet of RHENEIA.
Day 18 Mykonos/ Delos – Tinos
Departure after breakfast to Delos – the sacred island of Apollo. Delos, the mythical birthplace of Apollo and Artemis. On a guided tour, you'll visit the archaeological ruins of this UNESCO World Heritage Site, unearthed here in the 19th century. Delos is a true open-air museum with many ancient monuments and buildings that are remarkably intact. Except from the guards and the guides the island is not inhabited. Swim & lunch. Proceed to Tinos –the Holy Island . Visit. Overnight.
This island known as the island of the "Virgin Mary", is unique for its 800 odd dovecotes artistically designed and built, and scattered over the entire island. Every year on the 15th August thousands of pilgrims from all over Greece gather to honor the Virgin Mary and Her icon which is said to have miraculous properties. However Tinos also has a tradition of being the home of many sculptors and craftsmen. A fine arts school operating on the island is well worth a visit for those interested in fine works of art.
Day 19  Tinos – Lavrion Early sail to Lavrion/Cape Sounion. Breakfast. Disembarkation around 10.00. Transfer back to Athens Airport for departure. End of " Classroom at Sea" study tour to Greece.
(B) =breakfast, (D)=Dinner
click picture for more

Departures:
Tuesday   April –   October  2019-2020
The 14-day cruise is leaving on Friday.
Yacht Used for the " Classroom at Sea " Study Tour of Greece: AEGEAN LADY ( m/s Aegeotissa2) for 24 passengers, 35 meter long, two masted traditional Greek schooner with 12 cabins. All of them twin bedded (and some with additional 3rd bed). All cabins with private facilities and A/C. Crew of 5.
Price:
Rate per person: 3,465 Euro plus port taxes 260 Euro p.p .
(The rate is based on  22 full paying  persons + 2 complimentary faculty members)
Including:
CRUISE
14-day/nights cruise as per program.
Accommodation in cabins with private facilities and A/C.
American buffet style breakfast (14).
Lunches  (14)  or dinner-  pending on the itinerary.
English-speaking cruise director services.
Private coach for the tours to Corinth, Epidauros, Mycaeane, Delphi and Olympia with English speaking archaeological guide/lecturer.
Admissions fees to the sites and museums.
Guide books and maps of the islands.

ATHENS
Three nights  accommodation in  as superior 4*class hotel in Athens, Hotel Herodion or smilar. Twin occupancy with breakfast.
Transfers by private coach and assistance Athens Int'l Airport to Athens hotel and v.v.
Two halfday Athens  sightseeing tours by private coach and guide/lecturer and admission fees.
Afternoon tour to Cape Sounion by private coach and guide/lecturer and fees.
Welcome dinner in Plaka upon arrival.


Not included:
Meals and services not mentioned, drinks, tip to crew, shore excursions.
Remarks:
Rates for 2019-2020 for the " Classroom at Sea " Study Tour to Greece, are based on the exchange rate of the Euro to the Dollar and are subject to change due to currency fluctuations.
This Tour is for Groups only.
Classroom at sea alternative 2
---
The Classroom At Sea program, can be modified and tailor-made to meet your group' s requirements.
For example, 10 days cruise to the Cyclades and 4 day stay in Athens with a cost of 2,865 Euro per person plus 170 Euro p.p. port taxes.
Ask for the 14 days detailed itinerary or tell us what are your needs so we can organize your voyage to Greece.
[contact-form-7 id="3887″ title="base"]
you might be
interested in
---
Who are we or to check the perfect especially for the Departments of Philosophy and Religious Studies Trip to Greece and Asia Minor.