Planning the best honeymoon cruise in Greece
or renewing your vows?
Set sail on "The 7-day Classical Greece Cruise"

Cruise around the Greek Islands?
The Classical Greece Cruise is a perfect choice. Come join us aboard the Harmony G, an exciting new vessel that has all the luxury and class of modern yachts, but with more space for you to relax and enjoy the world around you. Aboard this beautiful vessel you will sail through the Cyclades Islands, taking in the picture-perfect blue sea and stark white towns that are uniquely Grecian.
With each stop, you will experience the history and culture of the islands, transporting you back in time and refreshing you with a new perspective each day. You will have the chance to take in the historical and archaeological history of the region, lush with palaces and ruins that will marvel.
While you cruise around the Greek Islands, enjoy the water and beaches that surround you, basking in the rich blue waters that rejuvenate your body and relax your mind. Amidst the history and stunning scenery are the numerous small towns and quarters on the islands. Each as unique and charming as the next, you will be treated to a range of culture and architecture that is equal parts tranquil, sophisticated, and quaint.
This journey promises a unique experience from both your sailing vessel and staying quarters to the beautiful and historic landscape you will immerse yourself in. Become rejuvenated and revitalized on a tour of the Cyclades.
Just married or renewing your vows? Set sail on this unforgettable honeymoon cruise in Greece visiting the Cyclades Islands, the "7-day Classical Greece Cruise".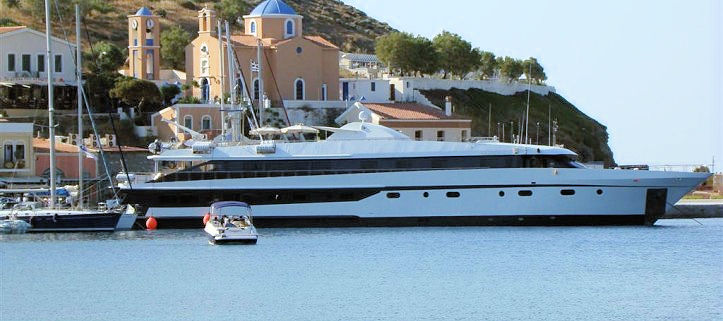 Itinerary:
Day 1 – Friday
MARINA ZEA, PIRAEUS – KEA
2:00-3:00 pm embarkation in Marina Zea, Depart via Cape Sounion to Kea. Time at leisure to explore Kea's tiny port, Korrisia after dinner. Departure in the early hours for Delos. Overnight at sea.
Day 2 – Saturday
DELOS (anchorage) – MYKONOS
Optional morning tour to the unique archaeological site of Delos, antiquity's most sacred island. On to the port of Myconos, with a swim stop on the way. Free afternoon and evening to enjoy the island's cosmopolitan lifestyle. Overnight in Mykonos. Are you on a honeymoon cruise in Greece? Don't miss the romance that Myconos has to offer! The sunset in Mykonos' Venice is just wonderful.
Day 3 – Sunday
SANTORINI
Noon arrival in Santorini (anchorage at Fira). Experience the stunning natural drama of the volcanic caldera. Optional tour to archaeological sites and typical villages with unique views over the Aegean Sea. Overnight sailing to Crete.
Day 4 – Monday
RETHYMNON, CRETE
Morning arrival at Crete's famous and lively port of Rethymnon. Optional tour to the ancient city of Knossos near Heraklion. Late departure for Kythira. Overnight at sea.
Day 5 – Tuesday
KYTHIRA
Late morning swim stop and afternoon arrival to Kythera, a less known island gem now fast becoming a favourite among visitors to Greece. Your Greek Islands cruise will make a stop to this pictoresque Island. Evening at leisure to visit the main town of Chora and experience the subdued charms of this peaceful island. Overnight in Kithyra.
Day 6 – Wednesday
MONEMVASSIA – NAFPLION
Early morning sailing to Monemvassia. Discover a remarkable medieval fortified town, with time at leisure to explore the uniquely preserved Byzantine and Venetian architecture and experience the beauty of the natural setting. Monemvasia is a great destination to discover while in your honeymoon cruise. It's medieval romantic atmosphere is something you won't forget.  Depart for Nafplion in the early afternoon, with a swim stop on the way. Evening arrival at Nafplion. The old quarter is charming, with narrow streets and characteristic period architecture. Also, impressive medieval fortifications can be seen in the port and crowning the hills above. Overnight in Nafplion.
Day 7 – Thursday
NAFPLION – HYDRA or SPETSES
Optional tour to Mycenae, the powerful walled palace of Agamemnon, the Homeric Achaean king. Early afternoon departure for the islands of Hydra or Spetses. Time at leisure to explore this picturesque port town. Overnight in port.
Day 8 – Friday
MARINA ZEA, PIRAEUS
Departure in the early hours for Marina Zea, Piraeus. Arrival and disembarkation after breakfast. End of the Classical Greece cruise.
click picture for more
included:
Accommodation in double or twin cabins with private SH/WC & air conditioning.
Half-board: Buffet breakfast and one main meal daily, including a Welcome Cocktail, a local Theme Evening , fun BBQ (weather permitting) and Captain's Dinner.
Regular (filter) coffee, tea and drinking water free all day.
Use of fishing and snorkelling equipment (subject to availability).
Multilingual Cruise Escort for your top Greek Islands Cruise: "The 7-Day Classical Greece cruise".
not-included:
Beverages (except those mentioned above).
Shore excursions on the islands or other land arrangements.
Crew tips.
Passenger personal expenses
Wi-Fi (available at charge)
Departures:
2019
Athens-Marina Zeas
Fridays
Price:
Classical Greece Cruise
Cat C Lower Deck, Twin or Double bedded Cabins    $ 2,950
Cat B Main Deck, Twin bedded Cabins    $ 3,550
Cat A Main Deck, Twin bedded Cabins    $ 4, 090
Cat P Upper Deck, Double or Twin bedded Cabins    $ 4, 550
3rd Person in Cat C    $2,065
Children 7-10 years old in triple cabin w/2 adults in Cat C    $1,475
Children 10-16 years old in triple cabin w/2 adults in Cat C    $1,917.5
Port Charges $305
the Harmony G ship
Launched/Rebuilt: 2001
Renovated: 2013
Length: 54.00 meters
Breadth: 7.10 meters
Draft: 3.65 meters
Crew: 16 – 18 persons
Cruising speed: 10.00 knots
Cabins: 21
The Harmony "G" is a modern vessel with a sleek high-tech look very similar to the private yachts to be found in the famous ports of the world. The 53 meter long / 7.2 meter wide Mega Yacht Harmony G was launched in January 2001 and renovated in 2009-10 and in 2013. It complies with the most stringent SOLAS safety regulations ,while its powerful engines and state of the art stabilizers allow for safe and comfortable cruising.
remarks:
Itineraries can be changed at the discretion of the cruise company and of the Vessel's Captain in case of adverse weather conditions – winds of 6/7 Beaufort or more depending on the vessel- on port authorities not allowing a vessel to leave port or in case of other extraordinary conditions.
Such itinerary changes do not entitle automatically passengers to any refunds but the cruise company guarantees that passengers are disembarked at the advertised port of disembarkation on time for their flights.
Other Cruises
you might be
interested in
---
If you like the idea to gather a group of friends and sail the Greek Islands, the "7-Day Discovery Cruise" is the right choice.  You prefer a more "free" vacation? Check the Do-As-You-Like-Tour. If you are interested visiting the Peloponnese you can extend your stay in Greece and combine it with the 6-Day Athens, Peloponnese & Meteora Tour
Please check our deals page or contact us for offers that may apply.