Crete Holidays "7 Day ZORBA Tour of Crete"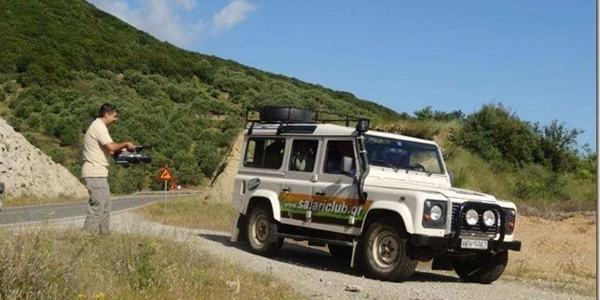 A private tour of Crete by jeep/car and guide
This tour of Crete is full of discovery, adventure, and unbelievable sights. Along the journey you will access secluded areas of the island and bear witness to astonishing landscapes and sights along the way. You will explore parts of the island only accessible by Land Rover full of gorges and plateaus, stopping at small villages along the way for coffee and food before reaching some of the highest points on the island.
You will encounter indigenous villages, cultures, and even endangered species.   Your exploration will continue through forests and towns, trekking through parts of the rest where no roads exist and mountains tower above you. Midst your adventure will be stops for refreshments at small cafes as well as rural barbeques with all the delicious local wine you can drink. A tour of Greece that doesn't encounter or incorporate its rich mythological history would be incomplete.
Crete Tours are always very intriguing. Along the way you will encounter such mythology as the cave of Zeus' birth, a mountain range where he is said to be sleeping, and much more.   There will be numerous palaces, temples, and ancient archaeological sites along the way that are rich with Grecian history and myth. Join us in Crete, an island of spectacular adventure and exploration.
Day 1 ATHENS – CHANIA
Day 2 CAHANIA – THERISSOS
Day 3 CHANIA – MONASTERIES
Day 4 CHANIA HALF DAY PRIVATE CRUISE – HERSONISSOS
Day 5 HESONISSOS
Day 6 KNOSSOS – GORTYS – PHAISTOS
Day 7 FINIKA – HERAKLION
Day 8 HERAKLION – ATHENS
Day 1. Departure from Athens in the morning by air for Chania. Meeting and transfer to Hotel Casa Leone, a nice boutique hotel located near the harbor.
Afternoon sightseeing tour of Chania. Church of the Trimartyri, Roman Catholic Church,Archaeological Museum of Chania (formerly the Venetian Monastery of St. Francis)Mosque of the Janissaries,Venetian Fortification Walls,Folklore Musum of Chania Dinner in a local restaurant with specialties. Overnight in Chania.
Day 2. At 09:00 start the Land Rover Safari Tour, one of our favorite Crete Tours.
Our day is the perfect way to explore the rocky mountains of west Crete, with beautiful gorges, plateaus, magnificent views and far out places that can only be reached by Land Rovers.
Our day starts as we drive though the vast orange groves of western Crete heading towards the gorge of Therisso, an amazing and scenic journey. Here we stop for a coffee, thus adopting the Cretan way of life and where you have the chance to see the village which is relative to the revolution of Crete.
After coffee, we start climbing towards the White Mountains where we make one more stop at village of Lakoi. There you get the chance to take some photos and where our extreme off road adventure starts.
A small road leads us on the highest point of the day where we get the chance to see Samaria Gorge like being in a helicopter and we will have the chance to observe many endangered species such as vultures and eagles.
Climbing down towards the plateau of Omalos and working up an appetite we visit a small traditional taverna which is hanging on the edge of the Samaria Gorge.
There we will be welcomed with the famous warm Cretan hospitality by Aristotelis, the owner who will introduce us to Cretan cuisine with plenty wine. Enough free time is offered as well so you explore the area and spot wild Kri-Kri in their natural habitat.
After lunch we drive through the plateau of Omalos where time has virtually stood still. The local people are mainly farmers and you will see many goat's, sheep and even some donkeys at work.
We take a short ride to visit the village of Sebronas where we follow the route of the river, we make a stop in the forest to get fresh water. We make one last stop at the village of Vouves where we get the chance to see the world's oldest olive tree while you enjoy a coffee or raki just before we reach your hotels. Return at the hotel around 17:00. Overnight in Chania.
Day 3.  Starting 09:00 until 17:00 Safari off the beaten track with lunch. Surprise …route. Monasteries, flora, fauna, swimming, traditional villages and more. Afternoon at leisure. Overnight in Chania.
Day 4. Half day private cruise of Chania for swimming and snorkling with a RIB- a 7 meters inflatable boat for 8 guests.Return to the port around 16:00 and depart from Chania for Hersonisos via Rethymnon. Hersonisos is situated about 30 km. from Heraklion. Check-in at the Crete Blue Hotel Boutique. Overnight in Hersonisos.
Day 5. At 09:00 start Safari Land Rover Lassithi Route .Our day is the perfect way to explore the central part of Crete with two different plateaus, mythology and lots of fun and interesting information about Crete and the local life.
Our journey takes us to the plateau of Katharo passing through the biggest forest on the island, where the roads are non-existent and the mountains reach a height of 1.500 metres, there will be a refreshment stop at a local kafenion somewhere in this wilderness!! We then continue through the dirt tracks, goat valley and across rivers, this is where the journey really gets exciting.
Our next stop gives you the opportunity to take photographs from a helicopter view of the Lassithi Plateau from where we drop down to the plateau for your BBQ lunch, with unlimited wine. After lunch we take you back in time on a visit to the Eco Village where you can see local crafts being made as they were in olden times.
Next stop is Zeus's cave where mythology says that Zeus, the father of all the gods was born, there is a 4 euro entrance fee and walking shoes are recommended. Then on to Lassithi plateau where time has virtually stood still, the local people are mainly farmers and you will see many donkeys at work.
We then make our way to Seli, where once again we have an opportunity to take photos of this unique scenery. As we continue driving, we reach the village of Krassi, which is famous for a 2,000-year-old plane tree and also has a natural spring water source. Heading back we pass through the area of Selinari where you will see vultures, which are now an endangered species. Return to Hersonisos around 17:00. Overnight in Hersonisos.
Day 6. Morning departure at 9:00 am for an extended tour to visit the Archaeological Museum &Knossos Minoan Palace. Lunch en route. Visit to Phaestos Palace – Gortys . Drive to nearby Zaro Lake for hiking around the lake Overnight in Hersonisos
The Archaeological Museum of Heraklion The Heraklion Archaeological Museum, regarded as one of the most important museums in Europe, is located in the center of Heraklion city.
Minoan Palace of Phaestos; The Minoan Palace of Phaistos, is located in the Messara Plain in south-central Crete, 55 kilometres south of Heraklion and a short distance from the archaeological site of Agia Triada, the archaeological site of Gortys and Matala. Phaistos is one of the most important archaeological sites in Crete. .
Knossos Minoan Palace. The famous Minoan Palace lies 5 kilometres southeast of Heraklion, in the valley of the river Kairatos. The river rises in Archanes, runs through Knossos and reaches the sea at Katsabas, the Minoan harbour of Knossos.
Day 7. Morning trip to Finikia Mountain by horse (riding or wagon) with lunch. Start your day by meeting your guide at the stables, where you will have a relaxed cup of coffee before taking a basic training session to make sure you feel safe and comfortable while riding a horse. Then, hop on your horse and wagon to begin your ride out into the mountains.
After riding for about 1 hour and 20 minutes, you'll arrive at the top of the Finikia mountains, where you'll stop for a break. Help yourself to a soft drink, raki, or fruit, and take a moment to admire the amazing views and snap a picture or two. In the distance, you can spot the nearby mountain of Archanes, the place where the Greek God Zeus is said to be sleeping.
Then get back on your horses and wagon and make your way back to the starting point. After riding for another 1 hour and 15 minutes, you'll arrive at the stables and then sit down for a delicious traditional Cretan lunch, including homemade wine.
After lunch, have a seat out in the garden of the stables, help yourself to some more wine, or enjoy a few more minutes of riding. At about 14:00, depart for Heraklion.Afternoon at leisure. Overnight at the boutique Hotel Megaron in Heraklion.
Day 8. In the morning transfer to Heraklion Airport for flight back to Athens. Transfer to your Athens hotel. End of the Tour of Crete.
Departures:
Crete Tours : "A private tour of Crete by jeep/car and guide" for 2020 – 2021:
March – November. Dates according to your request.
Included:
Air ticket economy class Athens/Chania and Heraklion/Athens with Aegean Air or Olympic. Taxes included.
Transfer from Athens hotel to Athens airport by private taxi/car.
Accommodation for 7 nights in twin bedded occupancy, in selected small boutique hotel
Breakfast (7) dinner (1) lunches (6 )
Three full day tours by jeep and English-speaking driver/guide as per program
Half day sightseeing tour of Chania Town by car and licensed archaeological guide
Full day tour to Knossos/Museum/Phaestos,Gortys by private car and archaeological licensed guide.
Half day morning cruise by inflatable boat in Chania
Half day morning horse riding (or wagon) to Finikia Mountains *(*upon request can be substituted with another tour)
Guide Book of Crete.
Service of our local agents.
Price:
Starting from:
Euro 1,995 p.p. for min. 6 pers.
Euro 2,095 p.p. for min. 5 pers.
Euro 2,195 p.p. for min. 4 pers.
Euro 2,495 p.p. for min. 3 pers.
Euro 2,895 p.p. for min. 2 pers.
Single room supplement: E. 420
Not-Included:
Admission fees to the sites and museums
Tips
All items not mentioned
Hotel City Tax
Remarks:
Itineraries can be changed at the discretion of the company in case of adverse weather conditions or in case of other extraordinary conditions.
The Company reserves the right to substitute the vessel