Cabin Charter in Greece.
2019 Sporades and Ionian Greek Island Cruises.
photo gallery – click picture for more
Cabin Charter in Greece. During the months of July and August the m/s Syrolana, m/s Irina and m/s Anatolie (traditional wooden yachts) will operate in the Ionian Sea and/or the Sporades Islands running weekly basis cabin charter cruises.
Yachts that will run the cruises are flexible, so please email us the period you're interested and we'll let you know ASAP all the details about your cruise to the Greek Islands of the Ionian Sea or the Greek Islands of the Sporades complex.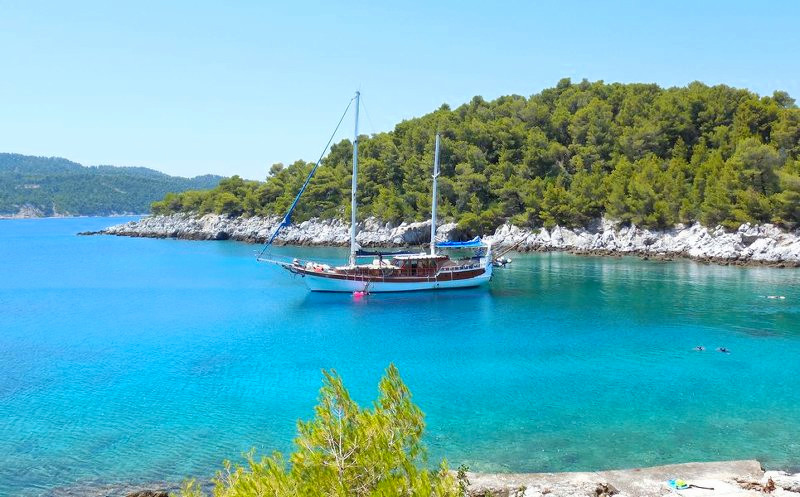 Indicative Itineraries:
IONIAN Sea cruise:
Transfer from Athens Intl Airport the Saturday (meeting at 4:30pm) then boarding the evening in Messolongi (located near Patras).
Transfer back the next Saturday with arrival at Athens Intl Airport before 1pm.
SPORADES Islands cruise:
Visiting Evia, Trikeri, Skiathos, Skopelos, Alonissos
Boarding Saturday evening at Oreous (on Evia island, transfer from Athens International Airport).
Disembarkation the following Saturday, same place until 9 AM (transfer to Athens International Airport)
To help you get more acquainted with local culture, history and archaeology we're sponsoring the zeus.guide Greek Travel Guide – including the Sporades complex Islands. Discover the Greek Islands with zeus.guide!
Prices:
Starting from Euro 1,500 per person.
Remarks:
Itineraries can be changed at the discretion of the cruise company and of the Vessel's Captain in case of adverse weather conditions – depending on the vessel- on port authorities not allowing a vessel to leave port or in case of other extraordinary conditions. Such itinerary changes do not entitle automatically passengers to any refunds.
 [contact-form-7 id="3887″ title="base"]
Other Cruises
you might be
interested in
---
Ever thought to visit the Sporades Islands or the Islands of the Ionian sea? Check this cabin charter. Again if you feel more like sailing to the Cyclades and Mykonos Island then the 7-Day Classical Greece Cruise is a wonderful option.