A great Greek Islands Cruise,  the "7-days Discovery Cruise"
This is a private tour.
Only members of the group you'll form will participate.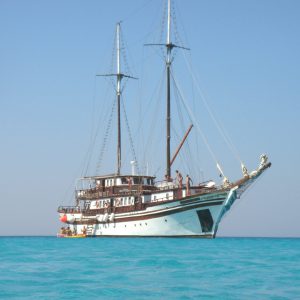 Cruise around the Greek Islands.
Join us on this best-selling cruise in Greece as we sail through the Aegean Sea and explore the Islands of the Cyclades. This gorgeous and historic set of islands forms a circle around the mythical island of Delos, which caps off the journey. Sailing along the crystal clear blue sea, you will be treated to the gorgeous beaches and waters that surround the islands and embark upon an exploration of ancient towns and mythical history.
Along the way, there will stops at Greek islands that will offer a truly unique feeling of calm serenity as you absorb your surroundings.   The strikingly blue sea is contrasted by the stark white houses of each island and ancient ruins you will find yourself exploring at every turn. Ancient palaces, places of worship, and towns preserved for thousands of years will offer an incredible feeling of perspective on this majestic voyage of discovery.
The Cyclades islands offer not only a window into the past and breathtaking views, but an imaginative look back into ancient mythology. The island of Delos that dots the center of the Cyclades is believed to be the birthplace of Apollo. Amidst this island are stunning archaeological ruins and a history that is undeniable and enlightening.
Come sail with us onboard the ship m/s Aegeotissa II (Aegean Lady) and explore a world of calm tranquility, preserved in time on this Greek Islands Cruise. Discover with us the Cyclades, a top Mediterranean destination.
1st day: Athens – Cape Sounion – Sifnos
2nd Day: Sifnos – Ios
3rd Day: Ios -Santorini
4th day: Santorini – Antiparos- Paros
5th day: Paros – Naxos
6th day: Naxos – Myconos
7th Day: Myconos / Delos / Tinos
8th Day: Tinos – Lavrion
1st day: Athens – Cape Sounion – Sifnos
Transfer from your Athens Hotel at 12.00 and drive to the port of Lavrion – Embarkation at 13: 000 at Lavrio/ Cape Sounion. Welcome drink. Departure at 15:00. Swimming stop. Dinner onboard. Arrival at Sifnos
2nd Day: Sifnos – Ios
Breakfast & early sail to Ios. On the way swimming stop & lunch onboard. Arrival at Ios (the island of Homer) at about 18:30
3rd Day: Ios -Santorini
Breakfast at 9:00. Departure for Santorini, one of the highlights of this Greek Islands cruise. Swimming stop. Proceed the Fira port at 13:00. Take the cable car to the town of Fira. Optional excursion. Enjoy spectacular views. Dinner aboard. overnight at Santorini.
4th day: Santorini – Antiparos- Paros
Breakfast. Morning sail to Paros, one of the most beautiful island of the Cyclades. Swimming stop at Antiparos. Lunch. Arrival at 18:30 to Paros (Paroikia or Naousa).
5th day: Paros – Naxos
Morning leisure in Paros. Sail for Naxos. Swimming stop & lunch. Arrival At Naxos Port. Visit. Overnight.
6th day: Naxos – Myconos
We continue our Greek Islands cruise and sail after breakfast for Myconos- the most cosmopolitan island with dazzling white houses, excellent shopping & entertainments. Enjoy spectacular sunset & Greek dancing. Swimming stop & lunch. Proceeding Myconos Marina at 18:30 Overnight.
7th Day: Myconos / Delos / Tinos
Departure after breakfast to Delos- the sacred island of Apollo. Delos, the mythical birthplace of Apollo and Artemis. On a guided tour, you'll visit the archaeological ruins of this UNESCO World Heritage Site. Swim & lunch. Proceed to Tinos–the Holy Island . Visit. Overnight.
8th Day: Tinos – Lavrion
Early sail to Lavrion. Breakfast. End of your Greek Islands Cruise. Disembarkation around 10.00. Transfer back to Athens.
Departures:
Dates 2020:
Every Friday from April to October
Please contact us to find cruise / yacht availability.
Included:
Accommodation for 7 nights in twin bedded A/C cabins with port holes- each with private shower/toilet
American breakfast and and one main meal daily (lunch or dinner, pending on the program),
Welcome drinks, a captain's Evening with dinner, English-speaking cruise director and transfer to/from embarkation port.
Price:
From Euro 1,695 p.p. in sharing twin bedded cabin and it is based on a minimum of 20 full paying participants.
One escort free of charge.
Port fees: Euro 130 p.p.
Not-Included:
Optional shore excursions, transfers, drinks, tip to crew, portage, items not mentioned .
Remarks:
Product for GROUPS only
In case the wind power reaches 7 on the Beaufort scale, the yacht is not permitted to sail by the Coast Guard, for safety reasons. Omitting port (s)-of-call will not entitle the passenger for any claims or refunds.
Specifications:
L.O.A. 40 m
B.O.A. 8 m
Passengers 25
Crew 6-7
Cabins 12 (all lower Berths en-suite bathrooms, A/C- heating)
Place Margarona Preveza -Greece
Engines 2 x 380 HP IVECO TURBO
Generators 2 IVECO
Electricity 12,24, 220 , 380 VOLT
Fuel tank capacity 6 tons
Water Tank 10 tons
Cruising speed 11 kn. max. speed : 12-13 kn.
Safety equipment Radar, Echo sounder, V.H.F., GMDSS, 2liferafts for 40 Pers.
extras Tv, Vrc, Dvd, Stereo system, Laptop, cell phones, sea sports wind surfing,
water skiing, fishing equipments, snorkelling gears, banana boat
tender tender with a 45 hp engine
Motor Yacht Charter in Greece.
Other Cruises in Greece
you might be interested in
---
If you are interested visiting the Peloponnese  the "Antiquity to Byzantium" is the right choice. Again if you feel more like sailing to the Cyclades and Mykonos Island then the "7-Day Classical Greece Cruise" is tailored for you.