Among best things to do in Greece are
1 – Watch the sun set in Santorini
Santorini is a volcanic island in the Cyclades, the group of Greek Islands set around Delos, in the Aegean Sea. It is famous for its views. It's memorable architecture and cobblestone streets filled with taverns, restaurants, bars and cafeterias, it's very own active volcano with its hot caldera, the 400 meter high cliffs and it's sunset… one of the most breath taking views that the human eye can behold.
2 – The Parthenon
This is one of the most important points in our history where tourism can bring us. Athens is just not complete if you don't visit the Parthenon, on top of the Acropolis. The construction of the temple took many years, and the building served as a temple, a fortress, a church and even a powder magazine. The Temple of Athena Nike, the Propylea Gates, the Sanctuary of Erechtheion and many more monuments can also be seen on the Acropolis and a round the Parthenon.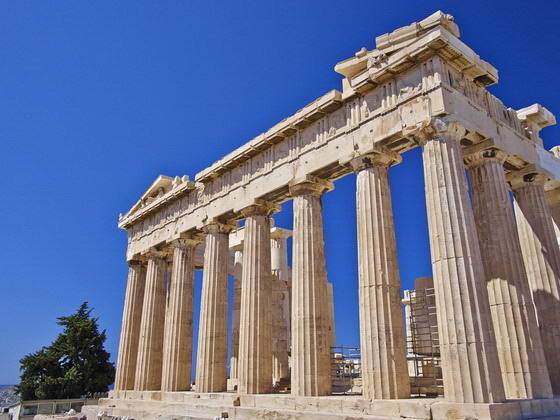 3 – Mykonos
It's one of Greece's most famous islands for its nightlife, bars, dance clubs and just plain 24/7 partying and having fun. As all of the Cyclades Islands, its natural beauty is astonishing, with white sandy beaches and turquoise crystal waters, Mykonos is definitely a must.
4 – Food & wine
Anywhere in Greece you're going to find a tavern, a restaurant or a bar that serves incredible food that tastes like heaven. A classic tavern serves homemade food and house wine, and it's one of the best places to be if you want to try local food. Greek olives and Greek seafood are two things you have to experience at least once in life.
5 –Delphi Theatre
This was the most important site in ancient Greek religion, home to the sanctuary and oracle of Apollo. It was originally built in the 4th Century, sitting on a hill giving over 5000 spectators a view of the entire sanctuary and the spectacular landscape below.
6 – Mount Athos
It's a mountain and a peninsula that can be found in northern Greece; the peninsula houses over 1400 monks in more than 20 Eastern Orthodox Monasteries. It's an autonomous state under Greek sovereignty, which makes the entry, exclusively for male, strictly controlled and a little bit complicated.
7 – Swim in the sea
A large percentage of Greece is in touch with beautiful Mediterranean waters, so swimming is definitely a must. There are tons of incredible beaches all over Greece and the Mediterranean Greek Isles, like for example: Kefalonia, Zakynthos, Crete, Rhodes or Astypalaia.
8 –Medieval Rhodes
Rhodes has a long medieval history, which turns it kind of like traveling in time. Rhodes old town is an amazing place to walk around and get lost. If you visit in June don't miss the Medieval Rose Festival.
9 –Corfu Old Town
If you've been to Italian renaissance cities, this will remind you of them; and if you haven't, this is how they look like. The Venetians occupied this place for a long time and their influence remains.
10 – Samaria Gorge
This is a 16 km long canyon in southwest Crete. This is one hot tourist spot for those who enjoy natural life, hiking and walking. You can go through the forests in 4 to 7 hour-long walks through forests of ancient cypresses and pine and cliffs.
 Actually there are soooo many things to do in Greece that makes it a really long list of "Best things to do in Greece".  Look below for the extended version.