Usually cruises last at least seven days. However, there is a separate division, the one day cruises in Greece.
As the only last one day, they are a great option for those who would like to travel the seas, but don't want to spend over a week on a ship. In addition, one day cruises are much simpler to organize.
A person doesn't need to sign up for them too long in advance, and they are a budget option for those who would like to visit some of the more popular Greek islands.
The one day cruises leaving from Piraeus usually  includes visiting the islands of Hydra, Poros and Aegina. This cruise departs from the Piraeus port in Athens, and returns to the same destination. Typically lunch is provided on board, and guests have enough time to spend some on each of the three islands.
Hydra is an interesting island. There are no motor vehicles allowed on it, with the exception of garbage trucks. Visitors can enjoy the large number of churches and monasteries on the island, some of which were built in the 10th Century.
Poros is the second Greek island on this short cruise. It is located very close to the mainland – only about 600 feet away. There are quite a few tourist attractions, due to the island's rich history. One of the must-see landmarks is the Sanctuary of Poseidon, which was built approximately around 520 BC.
The Aegina Island is located only 16 miles from Athens, which makes it a popular tourist destination. Some of the other noteworthy markers include the Temple of Aphaea and the Temple of Zeus Hellanios.
You are staying in Mykonos?
Mykonos Island provides visitors with an abundance of things to do and see. One of the most popular destinations is the Little Venice neighborhood. The houses of Little Venice go right to the sea shore.
Guests can enjoy a romantic dinner at one of the taverns, while watching the gorgeous sunset. Those who like extreme sports can sign up for kayaking, canoeing, scuba, or snorkeling lessons.
There are many notable landmarks in Mykonos, including the Chora windmills. Even though today these Mills don't produce flour, some of them have been reconstructed as homes. There is a wide variety of museums that guests can enjoy, including the Agriculture, Archeological, Maritime, and Folklore museums.
Apart all the above you can take a one day sailing cruise to Rhenia island trim sails and discover its sandy beaches or a half day cruise to Delos Island –something more than a half hour to reach the island- and visit this extraordinary ancient sacred island located in the vicinity of Mykonos. It's something you will that will remain in your memories for ever.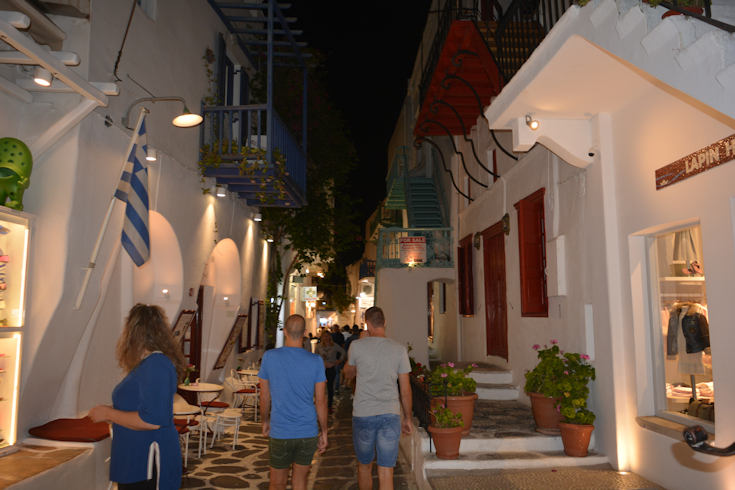 Lodging in Paros?
You can take a one day cruise to Delos and Mykonos and discover what both have to offer you. The modern jet-set style of Mykonos aside the ancient wisdom offered by Delos Island, birthplace of god Apollo and his twin Artemis.
One Day Cruises in Greece are a great way to experience Greece with its literally thousands of Islands.