You can combine a Greek Islands cruise visiting the breathtaking Islands to a land extension of your tour and give time to yourself to discover more during your trip in Europe.
Share the holiday season with those you love. Your time spent on the yachts or the Cruise ships will be unforgettable, comfortable, and relaxing. Spend the days basking in the sun on deck. Spark up your nights with activities like dinning or dancing on an Island or stroll around picturesque alleys in Mykonos or Santorini. You will discover so many places you can have fun all night long!
You prefer the mainland? Countless sights await for you to discover them!
Greece
Greece is a beautiful land being at the crossroads of the East and the West, the South and the North, Europe, Asia and Africa. Greece travel packages are cost worthy as you can find anything you look for in this sunny European Community country with clean, blue seas, amazing landscapes, tasty food following the Mediterranean diet and world-famous places like Mykonos, Santorini, Rhodes and the Acropolis of Athens.
Greece Travel Packages Offers
On the net you'll find offers starting from a couple of days to 3 weeks or more. Designed for big or smaller groups or tailor – made for individuals or couples, Greek island vacations or mainland tours can satisfy the needs of all travelers and pockets.
Greece Vacations Cost
Prices of Greece tour packages vary greatly accordingly to services required. Tourists can live in simple rented rooms or 3 stars hotels, but they can also opt for one room from a huge variety of luxurious hotels and resorts. For those who love the sea and want to be in one or even two different places every day, a comfortable cabin in an all inclusive yacht or cruise ship is what they need.
Special Interest Tours
Greece is a Special Interest Tours paradise. There are numerous tours focused on wine, photo, painting, birding, archaeology, yoga and lots of other interests and hobbies covering lots of destinations.
Cruises
The Greeks are a maritime nation with a great tradition in Navigation, the second maritime fleet in the world and awarded maritime Academies. With an extremely long coastline and 3.000 Greek islands and isles you can sail away and enjoy the seas.
Surprising landscapes, different ones in every port, amazing food and service, barbecue under the sun or the stars, fresh fish and meeting new friends with similar interests, this is what a cruise can offer you!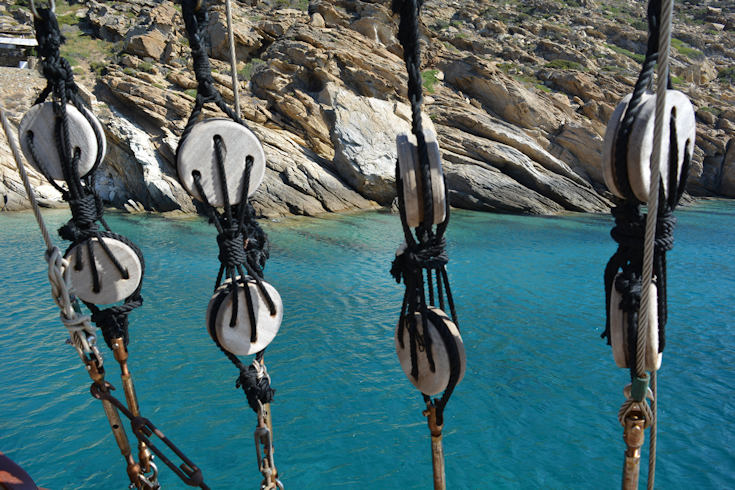 Budget Travel
You can visit Greece without going broke. Book early and look for good value for money Greece travel packages. Air tickets can be terribly cheap if bought a lot of months in advance.
Trips To Greece
While planning a trip you have three options: to visit the mainland, to visit the islands or better to have a combination of both and visit as many places as possible.
The Best Greek Islands
There is no such thing! All Islands have their unique "energy". It's more about finding the one(s) for you.
Greece travel guides propose a list of Aegean islands on top of which is cosmopolitan Santorini with its white-washed houses built on the rock, volcano and breathtaking sunset. Mykonos also prevails due its cosmopolitan air, picturesque houses, wind mills and Little Venice.
They also give details about Crete, the palaces of Knossos and Phaistos and the Palm Tree Forest. One of their favorite island is also Rhodes for its Medieval castles, aquarium and the Butterflies Valley.
If you want to see something greener, quieter wilder and less crowded, visit the islands of the Ionian Sea: Beautiful Cephalonia famous for its beaches and caves, Corfu known for its palace and castle and Ithaka, home of Ulises.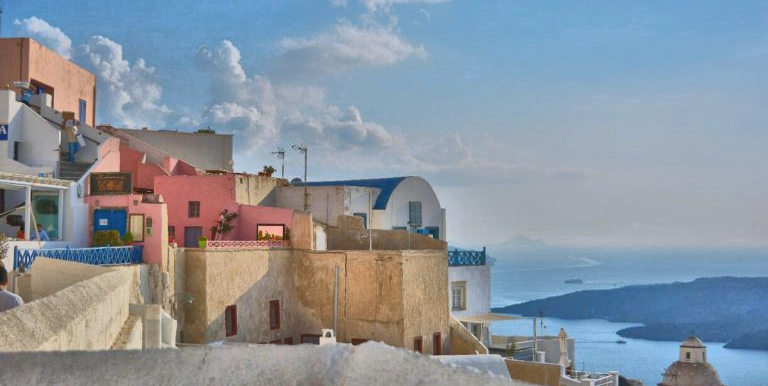 Santorini for Weddings
You can plan your wedding in Santorini. It is a good idea for romantic pictures by the sea or in front of white-washed houses, during sunset or on the volcano. Be sure you take good care of the documents needed and all the details a lot in advance. Your wedding will remain legendary.
Greece Honeymoon Travel Packages
What a better place than to spend your honeymoon in Greece? The nice weather, the beautiful sun, the transparent blue sea and the good temperature will make sure that your honeymoon will be serene and romantic. A time to remember on an island or better a combination of islands and picturesque places of the mainland.
Greece honeymoon travel packages promise a wonderful time for the best days of your life, interesting site-seeing, top hotels and first quality food and drinks for honeymooners who want something more than a trip…
Greece Travel Tips
If you want to combine multiple trips to islands with visits to the mainland then you have to buy an organized tour combining a cruise and a mainland tour.
In this way you will be able to see the monasteries of Meteora, the cascades and the thermal waters near Edessa, the Royal Graves in Veria, the Diros caves, the geological phenomena of nochtaria near Kozani, biological vineyards and lots of other interest places of the mainland of Greece without missing the islands of your preference.
Design your own trip if you want a tailor-made itinerary, to be able to see everything, provided that the number of the participants can cover the cost or look for ready Greece Travel Packages.
What To Do In Greece
Greece travel packages make sure that once you step foot on this sacred land, you will see, learn and experience as many things as possible. No matter which Greek travel package you buy, you will see a lot of ancient ruins as you can find them everywhere and are part of the proud history of this land.
Additionally you will enjoy the beauty of the ever-changing local scenery varying from urban to picturesque, from wetlands to rocky islands and from green forests to steep mountains. Finally you will enjoy Mediterranean food and wine and the warm hospitality, a tradition dated from the ancient years with Zeus, the father of gods protecting it. Get ideas about what to do during your Greece Vacation.
Greece Travel Packages by Vikings Navita
You can choose your perfect vacation from Vikings Navita's Greece Travel Packages keeping in mind that typically cruises run from April through October of each year while many land tours will run all year round.
During this time, plenty of holidays could be spent on a fabulous yacht or on a cruise ship excursion. But if it is land you prefer, then land it will be. We offer an array of unique and exciting travel experiences.
At Vikings Navita you will find travel packages for holiday travel and year-round travel at superb prices. Make your trip memorable without breaking the bank. Vikings plan lots of activities for you, but also allow you free time to explore the exotic locales and hidden delights that Greece offers. Yacht excursions typically sail four to five hours a day, so you'll have plenty of time on land to take in the sights at whatever pace you prefer.
They also arrange land-based activities and have to offer a variety of options and will help you plan your land tour or you can select from our ready leisure tours like the 7-Days Athens and Classical Greece package or even choose a theme travel proposal, like the The Bird Watching Tour of Greece for instance, especially designed for groups.
You're putting up a group to visit Greece? No problem. Vikings Navita got things ready for you in "only for Groups" proposals.
Whether you'd like to explore mythic ruins, see the Acropolis, visit ancient churches, discover Mykonos Island or sample cosmopolitan cuisine on the trendier islands, Vikings can make it happen.
You only must find what Greece Travel Package fits you best and friendly staff and guides are here to help make your trip to the Greek islands and mainland an enviable adventure–and one which you'll never forget.
you might be
interested to
---
check Best Greek Vacation Packages article on our blog, the 14-day Golf and Yacht Cruise , the 8-Days Athens and Crete package, or the 14-day Magnificient Greece Tour