Greece is located in southern Europe and is made up of a mainland peninsula as well as over 1,400 islands scattered throughout the Aegean and Ionian Seas.
That makes it perfect for you to experience one of our Greek Island Cruises. Nearly 170 of these islands are inhabited and provide travelers with an excellent seascape, full of island-hopping splendor.
At Vikings Navita, we provide unmatched yachting and cruising experiences to the Greek Islands. Our cruises on board a yacht, are intimate trips large enough for our travelers to meet different people, but small enough for you to get to know everyone's name.
We pride ourselves in servicing all types of travelers around the Globe. From Americans to Australians and from seniors to families and honeymooners.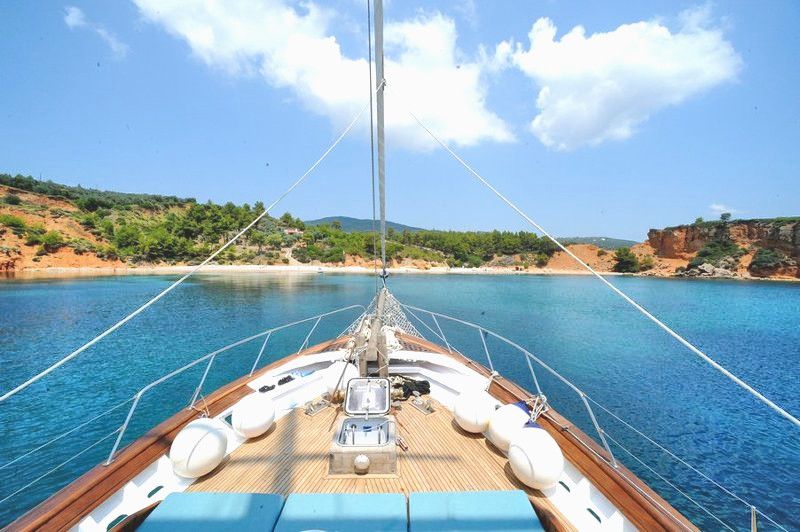 We offer several different types of Greek Island Cruises that include yacht trips of varying lengths and intimate cruise ship tours. We also provide chartered private yachts for groups.
Ideal for special interest groups, families, study trips, and singles trips, our yacht charters are unforgettable forays into a land rich in history (to help you get more acquainted with local culture we're sponsoring the ZeusGuide Cultural Greek Travel Guide) and breathtaking beauty.
Our planned Greek Island cruises come in two vessel varieties: yachts and ships.
The yacht trips vary in length from seven to 14 days of cruising. Our yachts provide generally a four to five hours of cruising per day, allowing plenty of time for exciting land excursions or lounging around on the deck.
Or, you can choose a cruise on an opulent cruise ship. These trips range from three to 10 days and include numerous excursions and stops as well. You'll get to see some of the most exciting locations in Greece and Turkey, and better yet, you'll get to see them in comfort and style.
Prices for yacht trips start around $1,695 and ship cruises at prices under $600 (air travel not included), making our Greek island cruises some of the most affordable yet amazing.
Look our Greek Island Cruises proposals to find yours:


Best Cruises in Greece. "Antiquity to Byzantium"   Discover the Oracle of Delphi, the theatre of Epid...

Cabin Charter in Greece 2018 Cyclades Greek Island Cruises. photo gallery – cli...

Cabin Charter. 2018 Sporades and Ionian Greek Island Cruises. photo gallery ...

Planning a honeymoon cruise in Greece or renewing your vows? Set sail on "The 7-day Classical Greece Cruise...

A great Greek Islands Cruise, "The 7-days Discovery Cruise".   Cruise around the Greek Islands...

Yoga Cruise in Greece. Yoga Cruise in Greece Itinerary 1st Day (Wednesday 25th of May and 14th of...

Golf holidays in Greece. "14-day Golf & Greek Islands Cruise" This "Golf holidays...

Chartering a Yacht in Greece. Greek cruises onboard the m/s Irina. photo gallery – click pict...

Yacht Charter in Greece. Private Cruise for your party of 12 (+3)       Come aboard the spectacular sailing ves...

Yacht Charter in Greece : The m/s Galileo       Come aboard the classic Galileo, one of the most spacious and a...

Yacht Charter in Greece. Private Cruise for your party of 12-14 passengers. m/y Elena         Elena is a classi...